MAM Perfect Night Soothers (Girl) 6m+
Glow in the dark soother – easy to find as the button glows
Unique teat is 60% thinner and 4x more flexible*** than comparable soother teats
Allows more natural mouth closure
Orthodontic soother designed to reduce the risk of misaligned teeth
Clinically proven: supports healthy tooth and jaw development**
Developed with orthodontists and paediatric dentists
Available with MAM SkinSoft™ Silicone – for easy acceptance
Soothes and comforts baby
Supplied in a practical sterilising and carry box for convenient and time-saving sterilising in the microwave
**Y. Wagner, R. Heinrich-Weltzien, "Effect of a thin-neck soother on primary dentition: a randomized controlled trial", Orthodontics & Craniofacial Research, Volume 19, Issue 3, pages 127–136, August 2016.
***Scientific reports from Wild Hi-Precision institute verify: the MAM Perfect's teat neck is on average 60% thinner; test series by the University Clinic of Dentistry Vienna confirm: it is also on average 4 times more flexible than comparable soothers. (Between: 32% – 83% thinner / 1.1 – 19.5 times more flexible than regular silicone soothers).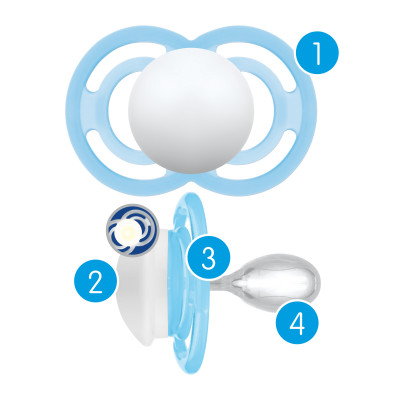 1. SHIELD
Curved for maximum comfort. Skin-friendly thanks to large air holes.  
2. BUTTON 
Glows in the dark - so parents and babies can find it easily. Quick and easy to grasp. For easy attachment of a clip.
3. TEAT 
Extra-thin and flexible teat allows more natural mouth closure. Teeth get more room to grow normally and the risk of misalignment is reduced.   
4. SKINSOFTTM SILICONE 
Easily accepted by babies. For a familiar feeling.